How to Improve Your Hotel's Check-out Experience • WebRezPro
Eventually, you and your guest will have to say goodbye…unless they're planning a very extended stay. When it comes to bringing guests back again, a hotel's last impression can be as important as its first. 
Upon check-out, you want to draw attention away from the transactional aspect of the guest's visit, i.e., the bill, and focus on the relationship aspect. The goal is to show them you care. Do that by providing a smooth, stress-free departure experience—here's how. 
Departure Gifts
If you have the budget, include a small gift when your guest leaves, emphasis on small. Their carry on can only fit so much. Food can be a helpful choice because it gives them something to nibble on during their trip back, though this is trickier for guests with allergies. A coupon for a discounted future stay is a proactive gesture that could bring guests back again.
Giving a gift transforms that last interaction with your hotel from something negative (the bill) into something positive (a treat). Extra points if you can make that treat unique to your hotel. Guests can find a Hershey bar anywhere, but they can't always get their hands on that decadent German chocolate fudge from the shop next door.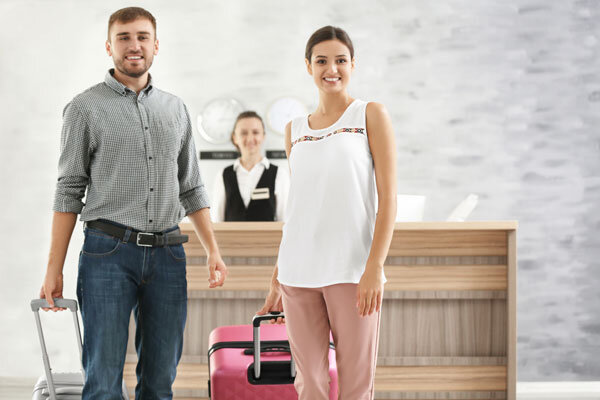 Send Guests Off With a Smile
Show guests out the door with a smile. Technology is efficient, but it doesn't have that personal touch. Take the time to wish departing guests safe travels home and thank them for staying with you. Common courtesy goes a long way.
Ask for Feedback
Asking guests how they liked their visit shows you care about their experience. They may not be willing to give negative feedback face to face (that's where your post-stay survey comes in), but then again, they might. It's your last chance to smooth over any issues before they walk out with a bad review in mind. 
Guest feedback also helps make the stay experience better for future guests, not only the current one. The customer isn't always right, but they are sometimes right. If multiple customers tell you the same thing, say room service takes too long, it's worth fixing. That will not only help avoid bad reviews, it will get you good reviews from upcoming guests who appreciate their croissant coming on time. 
In addition, it's worthwhile to note which things your guests particularly appreciate, both so that you keep doing them and so you know to advertise them. Make sure these features are prominently displayed on your website and social media channels. 
Offer Contactless Options
The advantages of self-check-in (no lines and no germs) hold true for self-check-out as well. Sometimes guests don't have time to stop at the front desk. When they're rushing to make their flight, they can't twiddle their thumbs in your lobby line. Allow them to check out using their mobile devices instead.
Integrated with the PMS, a self-check-out application will automatically send the guest an invoice so that they can see and approve any payment they owe. Use a digital key integration so that the guest's check-out automatically deactivates their mobile room key. An integrated self-check-out system keeps front desk and housekeeping teams informed in real time for more efficient room turnover.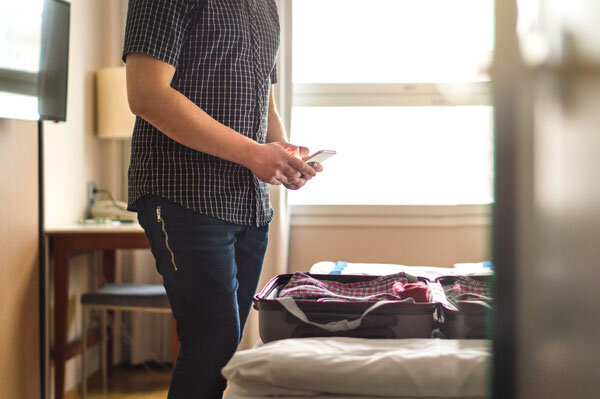 Transportation
Can you offer a shuttle to speed guests on their way? Or even an Uber and a list of cabs? Not only will this make the first stage of your guest's journey home easier, it could also save them money. Guests don't always know the most convenient or affordable transportation options—especially in a city that's new to them. Helping with this is always appreciated!
Post-Stay Messaging
Turns out your last impression isn't quite your last impression after all. Message guests post-stay to thank them more formally and send out that feedback survey.  
When guests check out, your system should automatically email them an invoice and a thank you. (You don't want your guests dwelling on the bill, but they do need to know what it is.) After three to seven days, follow up with a survey or review request.
The check-out experience is your chance to make sure guests remember your hotel the right way. Think of your guest's stay like a delicious three-course meal. You don't want anything to spoil the aftertaste because that aftertaste lingers. Make your guests want to take another bite and come for another visit with a seamless check-out experience that makes them feel appreciated.