15 Best Things To Do in Seattle, Washington
[ad_1]

Known as the Emerald City, Seattle just might be the most scenic metropolitan area in the United States. The largest city in the Pacific Northwest offers visitors endless things to see and do.
Seattle is surrounded by evergreen forests, mountains, and water. In addition to its natural beauty, there are also plenty of excellent attractions and places to visit.
As the name would suggest, Seattle is home to lots of green spaces. As a matter of fact, there are hundreds of parks here! If you love the great outdoors, there's no shortage of great places to visit in Seattle.
Even if you're just in Seattle for a weekend trip, it's enough time to enjoy many of the things to see and do.
In this guide, I'll introduce some of the top things to do in Seattle along with lots of practical info to help you plan a great trip.
About Seattle, Washington
Seattle is located between Puget Sound and Lake Washington and has the Olympic Mountains to the west and Cascades to the east, making for some postcard-worthy scenery around every corner.
Unfortunately, it's true that it rains quite often here. Don't let it rain on your parade, though — there are tons of great museums and other indoor activities to keep you busy when it gets a bit wet.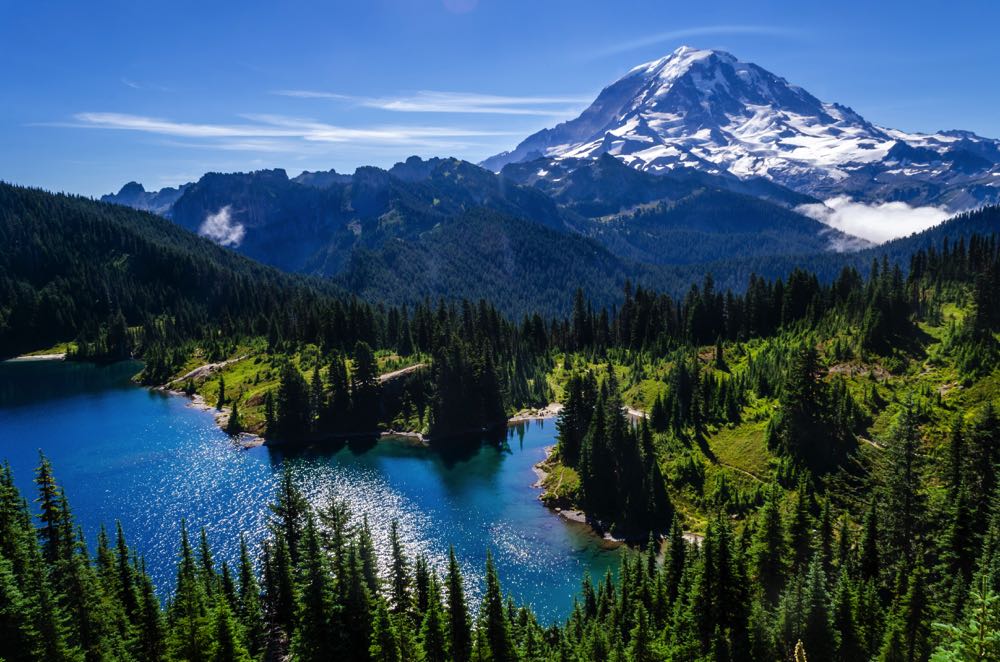 Seattle is also well-known for its music and sports. The grunge era started here with bands like Pearl Jam and Nirvana and it's now a hub for indie music and underground hip-hop.
Seattle sports fans are some of the loudest in the country as they show their unwavering support for teams like the Seahawks and Sounders.
I've been to cities all over my home country from coast to coast (including Denver, Detroit, Austin, Asheville, Boston, New Orleans and many more), and Seattle is definitely among my favorites.
It really is amazing how you can enjoy all the amenities of a big city and yet so easily get out in nature.
Here's my list of the top 15 things to do and places to visit in Seattle:
1. See the Space Needle
Without a doubt, the most iconic landmark in Seattle is the Space Needle. Built for the 1962 edition of the World's Fair, it has been a fixture in the city's skyline ever since.
The observation deck is 520 feet (158 meters) tall, so you get to enjoy 360-degree panoramic views. On a clear day, you can see the entire city along with natural wonders such as Lake Union and Mt. Rainier.
While the Space Needle has always been one of the top places to visit in Seattle, it's even cooler now thanks to some serious renovations.
A recent multi-million dollar upgrade gave the famous tower The Loupe — the first rotating glass floor in the world. They also added wall-to-ceiling glass and the new Skyrisers, which are tilting glass benches that provide for some unreal views of the city.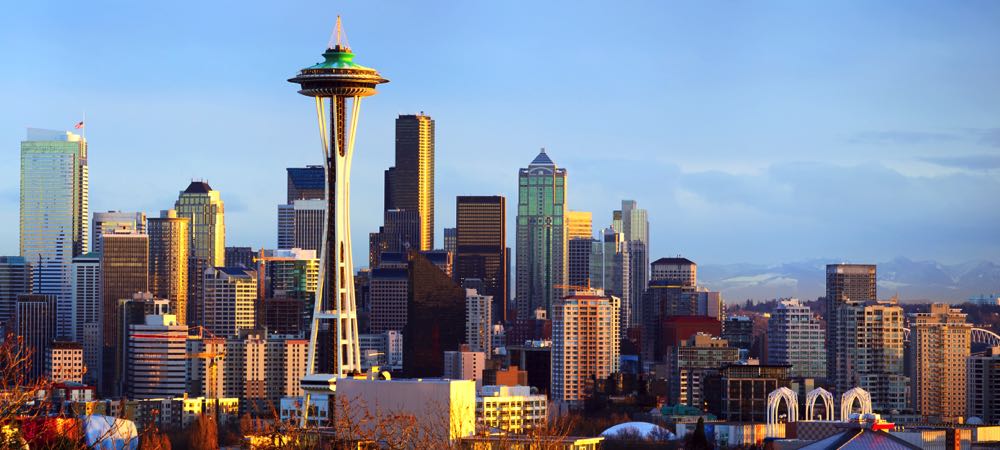 The Space Needle is open daily from 8 AM-Midnight, with the last entry at 11:15. Tickets range from $34 – 37.50 for adults and $25 – 30 for children. This is one of the best places to visit in Seattle and is included in the Seattle CityPass.
Or, you can see the Space Needle and the Chihuly Garden together with this ticket.
2. Check Out The Seattle Center
The Space Needle is just one part of the massive Seattle Center. This hub of education, art, and entertainment has so much going on that you could easily spend an entire day here and still not do it all.
One of the top Seattle attractions you'll find here is the International Fountain. At different points throughout the day, the fountain is synchronized to music, making for a great show that's fun for all ages.
The Seattle Center is also home to Artists at Play — a funky playground designed by artists. There's a climbing tower, labyrinth, carousel, and much more here. This is one of the best free things to do in Seattle.
There's much more to see and do here, including several different museums. Don't miss the excellent Bill & Melinda Gates Foundation Discovery Center. They run free group tours from Tuesday-Saturday at 2:00 PM and it's always free to visit.
In addition to all the different attractions here, the Seattle Center also hosts thousands of events and programs throughout the year. Concerts, fitness classes, movies, festivals, and more are on tap here. Be sure to check their event calendar to see what's going on.
3. See Chihuly Garden
One of the most popular places to visit in Seattle is the Chihuly Garden & Glass Museum. It's dedicated to the stunning glasswork of Dale Chihuly, whose work can be seen in over 200 museums around the world.
The museum is split into three different areas — the Garden, Interior Exhibits, and the incredible Glasshouse.
There's also a theater that's constantly showing short videos of Chihuly and his work. You'll definitely want to carve out a couple of hours to take it all in.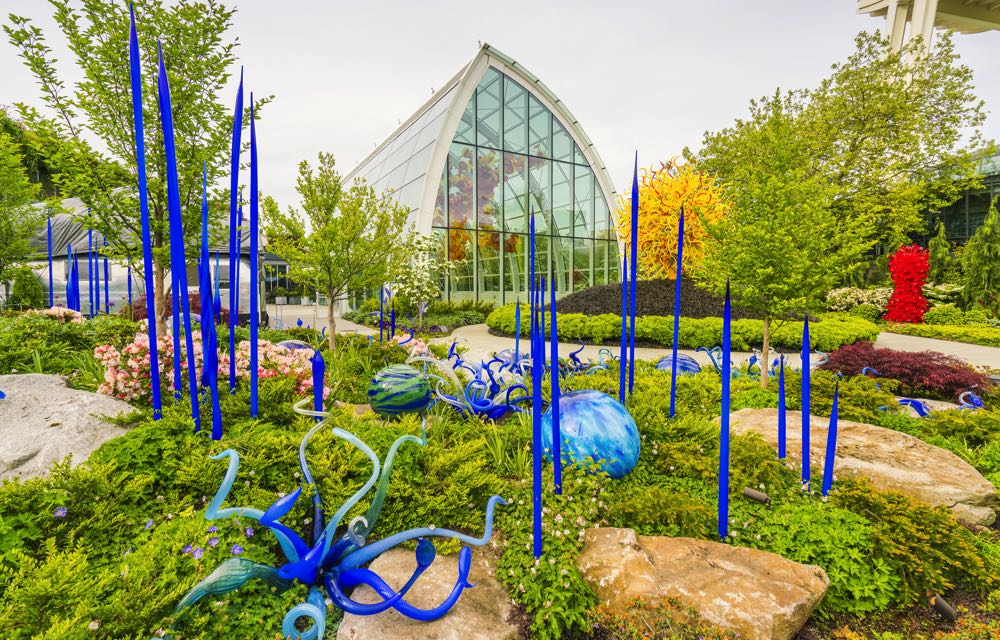 The museum is open from 8:30am – 8:30pm Monday to Thursday and stays open an hour later on the weekend.
Tickets cost $30 -35 for adults and $19 – 21 for children. Entrance to the Chihuly Garden & Glass Museum is included in the Seattle CityPass, on this 3-hour "highlights tour" of Seattle, or this ticket which includes the Space Needle as well.
Finally, if you prefer to simply purchase your entrance ticket direct from the company, make sure to utilize the free audio tour on offer.
4. Join a Food Tour
One of the most fun things to do in Seattle is to eat your way across the city on a food tour. Eat Seattle and Show Me Seattle come highly recommended and have several different options for food tours in the Emerald City.
Their highly-rated signature tour of Pike Place Market Chef Guided Food Tour lasts two hours and includes numerous bites.
Along the way, you'll learn all about the history and culture of the market, find some small businesses and enjoy sampling all of the amazing foods on offer.
Another solid option is the Pike Place Market Walking Food tour which includes a guide, samples at seven artisanal food stalls, and more. Joining a food tour is one of the fun activities in Seattle for adults that should be on your list.
5. Visit The Museum of Pop Culture
Formerly known as the EMP (Experience Music Project), the Museum of Pop Culture is one of the best Seattle attractions around. Before you head inside, you'll want to take some time to admire the stunning building from world-famous architect Frank Gehry.
Once you step inside the museum, which also goes by MoPOP, you'll notice the impressive guitar sculpture called "If VI Was IX." There are over 500 instruments making up this tornado-like sculpture!
Speaking of music, the museum has several permanent exhibits dedicated to Seattle's most famous rockers — Jimi Hendrix, Nirvana, and Pearl Jam.
You can even channel your inner rockstar in their Sound Lab or take your picture in front of a packed audience in their On Stage area.
That's not all, though. MoPop also has exhibits on fantasy, science fiction, horror, video games, comedy, and much, much more.
I've been to a lot of museums in my travels, and this one is definitely my favorite. Be sure to add it to your list of fun things to do in Seattle.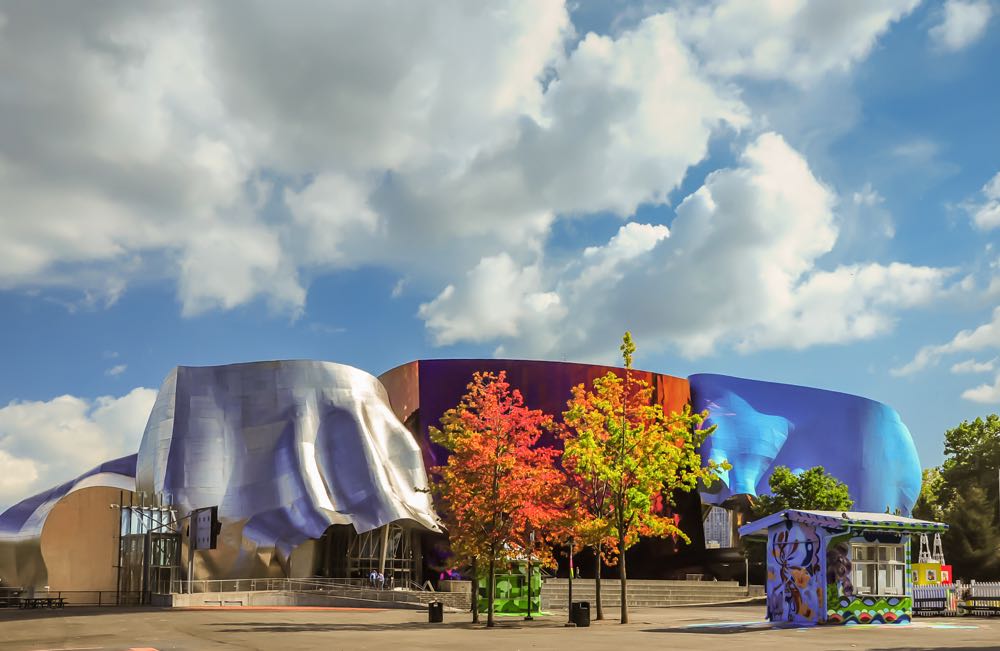 MoPOP is open Monday – Friday from 10 am – 6 pm and Saturday and Sunday from 9 am – 6 pm. Tickets cost around $35 for adults and $21 for children.
Entrance tickets to MoPOP are included in the Seattle CityPass. Click here to get directions.
6. Pike Place Market – One of the most famous Seattle attractions!
One of the best places to visit in Seattle is Pike Place Market. Dating all the way back to 1907, this is one of the oldest public farmers' markets in the United States.
By shopping at Pike Place Market, you're doing much more than just checking off one of the best Seattle attractions. You're supporting local farmers, artisans, and small businesses as well!
There's so much to see (and taste) here that you'll want to make sure you come hungry and stay awhile.
In addition to the farmers' market and crafts market, there are 80 restaurants and over 200 unique shops. With so many options, it can be a bit intimidating. Don't miss a food tour (listed above at #4) of this market.
It's much more than just a market, actually. It's a community with lots of excellent initiatives, such as a senior center, food bank, and pre-school.
If you want to show some extra love, pay a visit to Rachel the Piggybank. Rub her snout and make a donation, and legend has it you'll have good luck.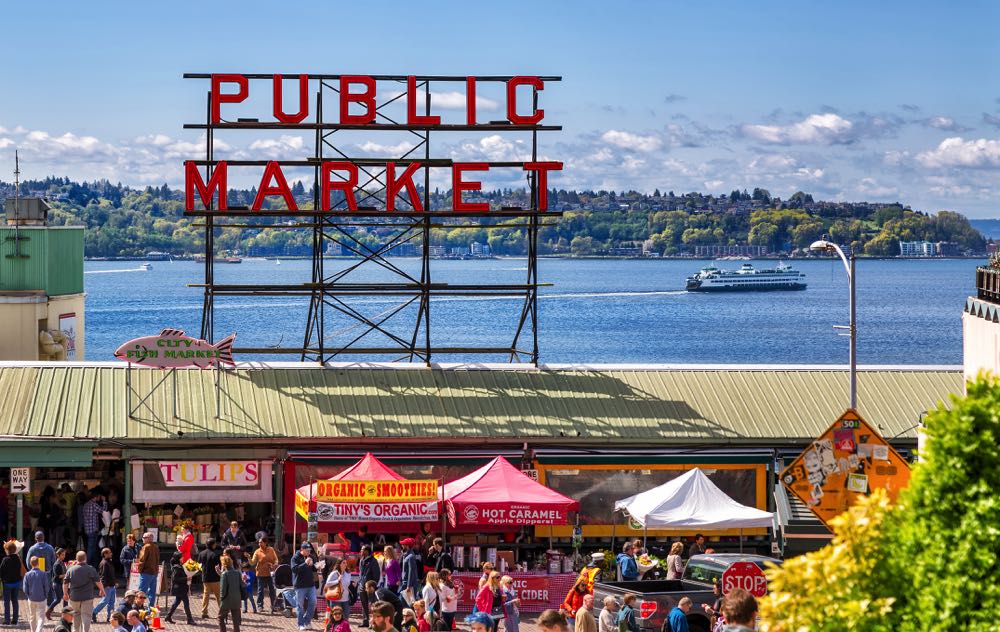 The market is only closed on Thanksgiving and Christmas. It officially gets going at 9 am and closes at 6 pm, but you can come here as early as 6 am for breakfast if you're an early riser.
Head over to their website to plan your visit and browse all the various options. You can find Pike Place Market on the map here.
7. Enjoy the Waterfront Park
After exploring Pike Place, you're just a short walk from the next spot on our list of Seattle attractions — Waterfront Park. There are several benches and picnic tables here, so it's the perfect place to sit down and enjoy whatever delicious food you picked up at the market.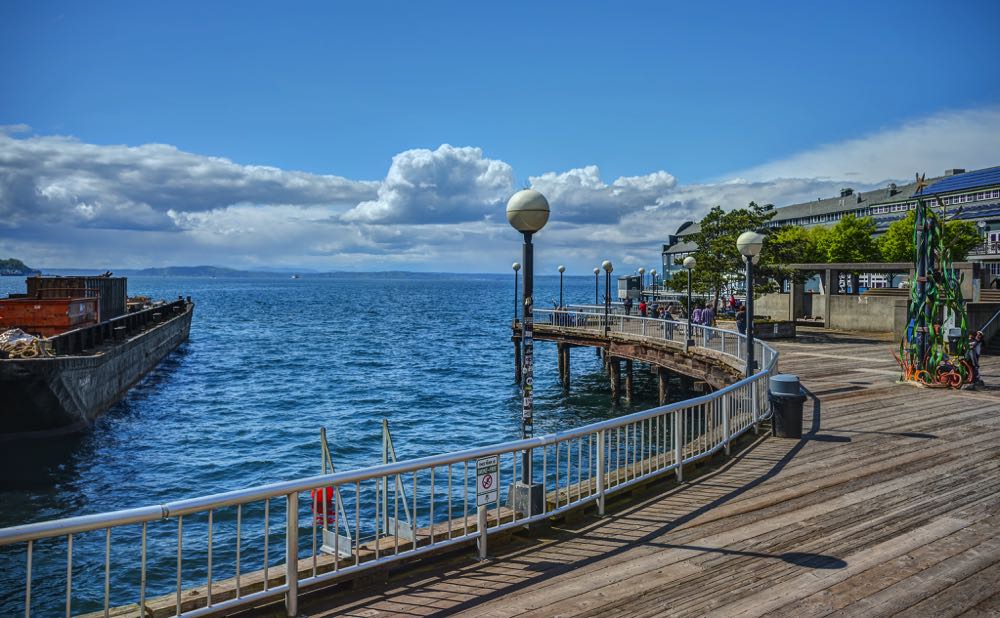 The park is home to two different platforms where you can enjoy some fantastic views.
On a clear day, you can even see the Olympic Mountains in the distance. There are coin-operated telescopes here to help you get an even better look at the surroundings. Be sure to check out the Waterfront Fountain as well.
One of the most fun things to do in Seattle is taking a ride on the Seattle Great Wheel. This giant Ferris wheel is open from Monday – to Thursday from 11 am – 10 pm, Friday and Saturday from 10 am – 11 pm and Sunday from 10 am – 10 pm.
Tickets cost $16 for adults and $11 for kids. You also have the option of splurging for a VIP ticket ($50) for their luxury gondola and a souvenir t-shirt.
Waterfront Park is a great spot to unwind after a big day of sightseeing in the Emerald City. It's located between Pier 57 and 59. Click here to get directions.
8. Day Trip to Mount Rainier
If you have some extra time in Seattle, consider doing a day trip out to Mount Rainier which is an active stratovolcano in the Mount Rainier National Park.
This towering volcano is 14,400 ft (4,390m) and in the National Park, you'll find numerous activities on offer, including hiking, camping and rock climbing.
For travellers on a day trip, hiking along one of the many trails is a top choice. During the winter months, you can trade your hiking boots for show shoes and still enjoy the trails.
The highly-rated Evergreen Escapes runs full-day, small group tours to Mount Rainier, which are tailored to your fitness levels.
Included in the trip are transportation, a knowledgeable naturalist, lunch, snacks, and entrance fees. To learn more about this top trip from Seattle, click here.
If you'd like to add wine tasting to your day trip to Mt. Rainier, check out this fun tour! Enjoy a hike in the park, an organic picnic outside, and wine tastings at local vineyards. Of course, transportation, all fees, and food and wine are included. Learn more here.
9. Take a Cruise
While Seattle looks great on land, it looks even better from the water! Taking a cruise around Elliot Bay and the Puget Sound is easily one of the most fun things to do in Seattle.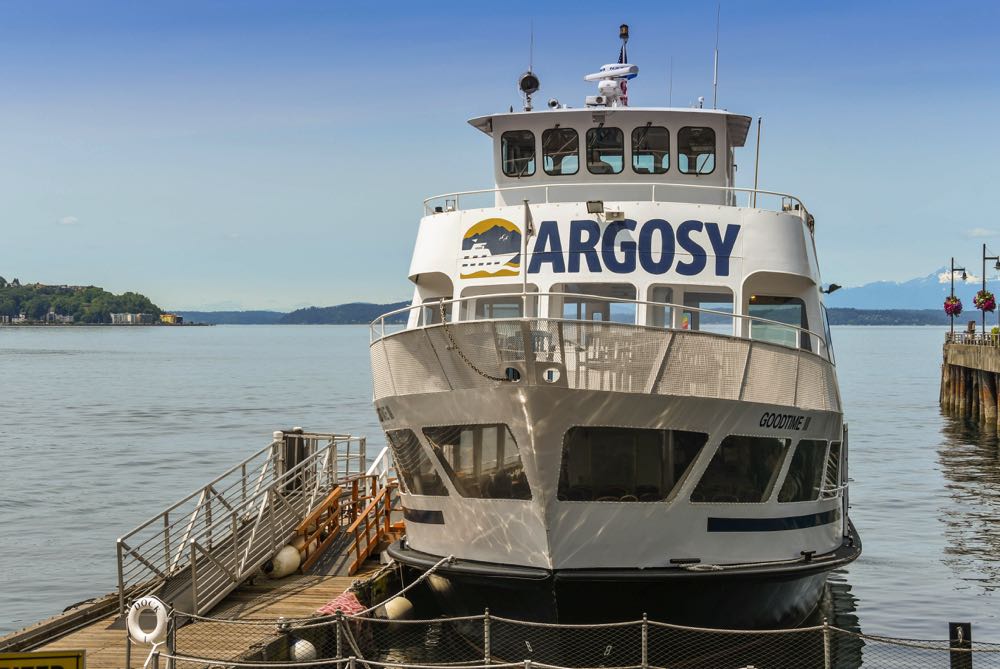 Your options for cruising range from a simple 1-hour harbor trip to overnight getaways.
On the budget end, you can simply take one of the local ferries to enjoy the views. The ferry to Bainbridge Island only costs $8.50 for adults and $4.25 for children, and the return trip is free. It's a nice way to spend an afternoon without spending a ton of cash.
Argosy Cruises has been in business for 70 years and their tours come highly recommended.
They have seven different options, including their one-hour cruise of Elliot Bay and the Seattle Harbour where you'll enjoy a fully narrated trip, amazing views of the Seattle skyline, and on clear days, of Mount Rainier.
A cruise with Argosy is actually included in the Seattle CityPass if you choose to go that route.
10. Walk Through Washington Park Arboretum
The Washington Park Arboretum is definitely one of the most beautiful Seattle attractions to visit.
This scenic park has miles upon miles of trails and is a living collection of plants. It's a prime example of why Seattle is known as the Emerald City and a lovely place to spend a few hours.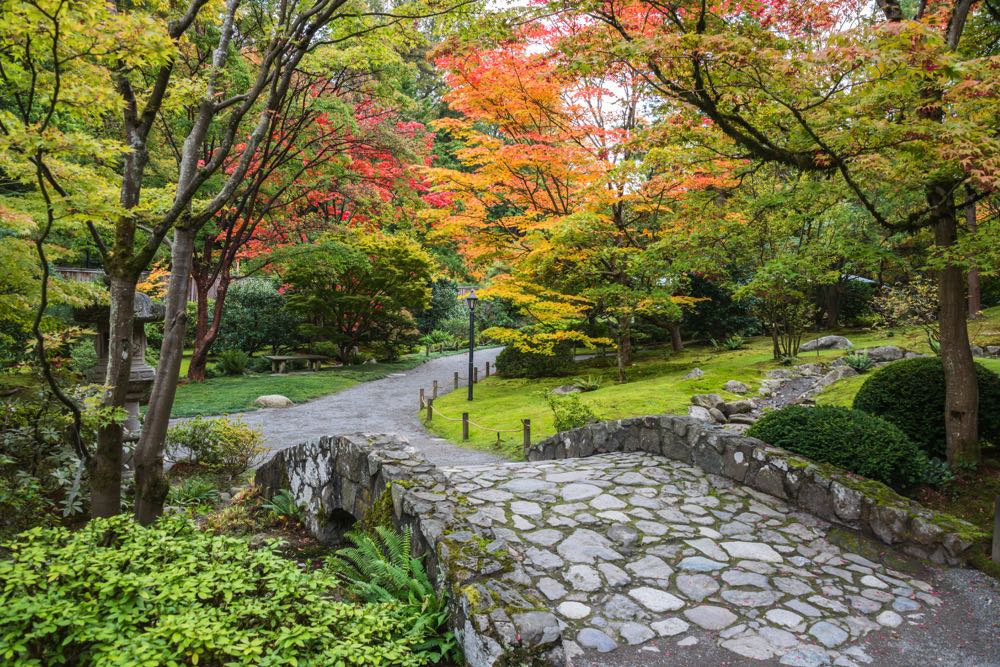 Spring is a very popular time to visit the park thanks to the azaleas that are in bloom. Come here in the fall and you'll see Japanese maples and strawberry trees, creating a vibrant tapestry of colors.
The arboretum is open daily from dawn to dusk and is one of the best free places to visit in Seattle. They also have several different tours and classes as well as options for birding and boating. Check their website for all the details.
While you're here, it's well worth it to pay the entrance fee for the Japanese Garden ($8 for adults and $4 for children). They have free guided tours from April to October at 12:30, and you can also enjoy a traditional Japanese tea ceremony here for an extra $10.
It's a little slice of Japan right here in Seattle!
Click here to get directions to the arboretum. The Japanese Garden is in the southwest corner of the park. Be sure to add a stop here to your list of places to visit in Seattle.
11. Visit the Seattle Art Museum
Art lovers will want to experience SAM. The Seattle Art Museum actually consists of three different facilities — the main museum, the Asian Art Museum, and the Olympic Sculpture Park.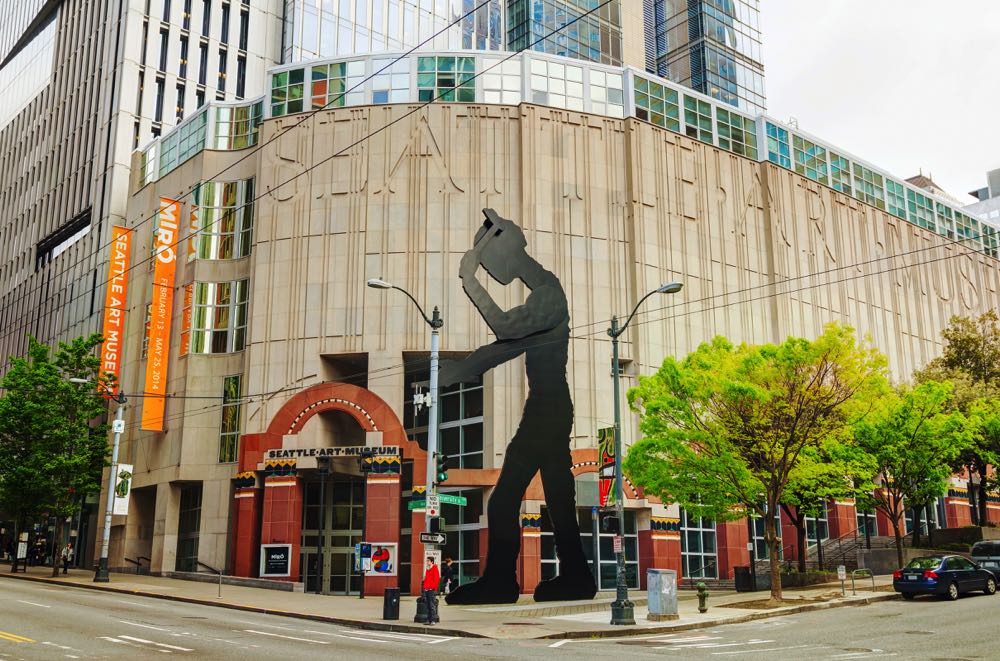 At the main museum, you'll find an impressive collection of art from all corners of the globe. It's known for its extensive collections of Native American and Northwest Coast art. There are over 25,000 different works of art on display here, so take your time.
In addition to the main museum, you can also pay a visit to the Olympic Sculpture Park. It's located just a mile away (click here for directions), so it's easy to visit both. Once an industrial site, it's now a free public park full of unique sculptures.
The art museum is open from 10 am – 5 pm on Monday, Wednesday, and Friday-Sunday. It's closed on Tuesday but stays open until 9 pm on Thursday.
Tickets are $29.99 for adults, $19.99 for students and teens ages 15-18, and free for kids 14 and under. If you happen to be in town on the first Thursday of the month, it's free for everyone! Click here for directions.
12. Visit The Museum of Flight
If you're interested in air and space, you'll want to include the Museum of Flight in your Seattle itinerary. There are over 150 aircraft on display here along with thousands of artifacts and photos.
There's enough to see and do to spend several hours here, so this is a great thing to do in Seattle when it rains (which happens quite frequently!).
A major highlight is the Aviation Pavilion, which features an impressive collection of rare airplanes. There are WWII bombers, the first Boeing 747, and even the first jet Air Force One. You can even board some of them!
In addition to all the aircraft, they have plenty of interesting exhibits to check out, which change frequently. Click here to view a list of current exhibits and see what's coming up.
For those airplane fanatics, you can also visit the Boeing Factory which is about 30 miles (50km) from Seattle. On the tour, you'll check out the Boeing factory with a local guide and see planes at various stages of assembly!
Plus, you'll wander around the 28,000-square-foot Aviation Gallery and check out the exhibits and displays. Learn more about this tour here.
The Museum of Flight is open daily from 10 AM-5 PM. Tickets cost $25 for adults and $16 for children.
On the first Thursday of every month, the museum remains open from 5-9 PM and it's totally free to enter. Click here to buy your tickets online for one of the best Seattle attractions. You can find the Museum of Flight on the map here.
13. Watch Some Professional Sports
People in Seattle are crazy about their sports, and they express their love for their teams very loudly.
In fact, Seahawks fans have twice set the Guinness World Record for loudest crowd noise at a sporting event. The team refers to their passionate fans as the "12s," as they basically act as the 12th player.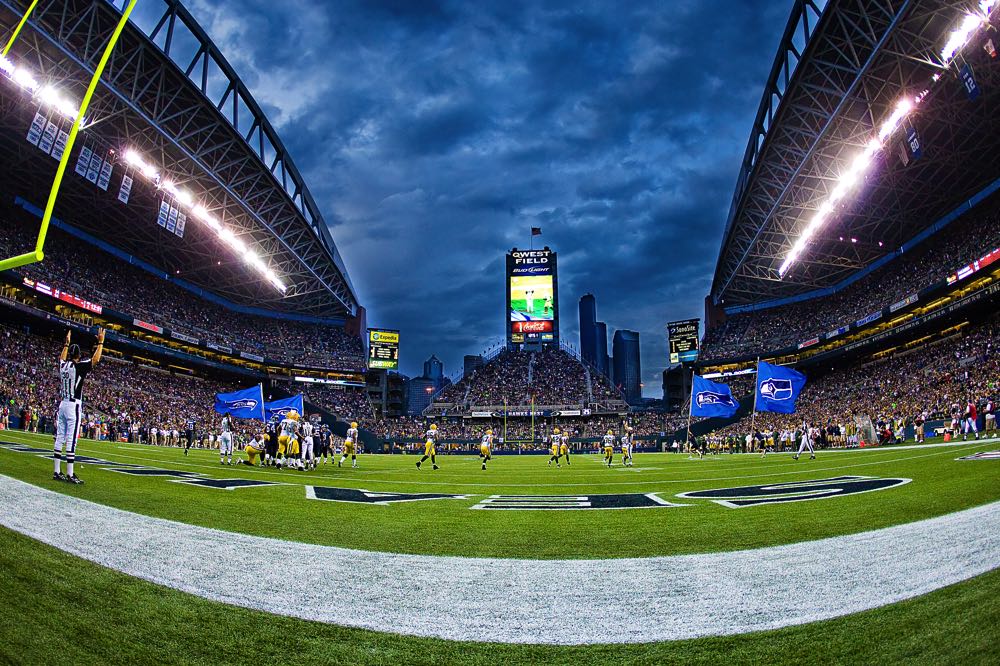 The Seahawks (NFL) play their home games at CenturyLink Field. The stadium is also home to the Seattle Sounders FC, which have been selling out home games since their debut in MLS ten years ago. If you can manage to score a ticket, you're in for a good time.
During the summer months, you can catch the Mariners (MLS) at T-Mobile Park. With around 80 home games per season, there's a good chance they'll be in town if you're visiting between May and September.
Fun fact: the Seattle Metropolitans were the first American team to win the Stanley Cup way back in 1917. The NHL wasn't even a thing at that time, as it got started later that year.
Since the 2021 – 2022 season, Seattle finally has an NHL team, which plays at the New Arena in the Seattle Center.
14. Experience Discovery Park
While there are plenty of excellent green spaces in the Emerald City, Discovery Park really takes the cake. This is the largest park in Seattle and is home to around 12 miles of excellent trails. It also has beaches, sand dunes, cliffs, meadows, and much more.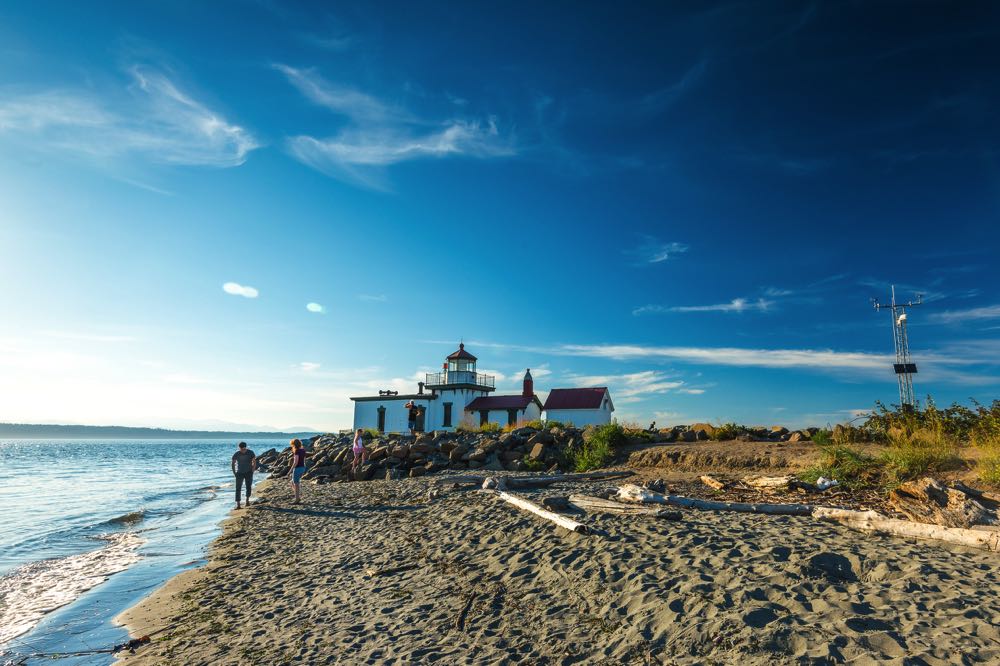 If it's your first time at the park, your best bet is to start out with the Loop Trail. This 2.8-mile-long trail goes through the center of the park and branches out to other trails if you feel like exploring further.
Try to make it all the way out to the West Point Lighthouse, where you can enjoy some incredible views of the mountains and water.
Discovery Park is located on Magnolia Bluff overlooking the Puget Sound, click here for directions. It's definitely one of the most picturesque of all the Seattle attractions and is well worth the effort to reach.
15. Join an Underground Tour
Rounding out our list of fun things to do in Seattle is taking an interesting underground tour.
Beneath The Streets is one of the most popular Seattle attractions. On this fun and educational tour, you'll explore subterranean sidewalks and storefronts that were built on top after the Great Fire of 1889.
This one-hour tour takes you beneath Seattle's streets to explore three underground passageways, dating back to the 1890s.
This highly-rated tour is fun for everyone and affordable at $29. This is one of the more unique things to do in Seattle that you won't want to miss. Click here to learn more about the tour.
FAQ'S
Answers to some of your frequently asked questions about visiting Seattle.
What fun things are there to do in Seattle?
There are so many fun things to do in Seattle! Whether you're into nature, museums, food, or sports, there's something for you.
The top fun activities are day-tripping to Mt. Rainer for some hiking and epic views, checking out the bustling Pike Place Market, and listening to live music at the Tractor Tavern, The Crocodile, or Dimitrou's Jazz Alley.
What is the number one tourist attraction in Seattle?
By far, the top attraction in Seattle for tourists is the Space Needle. This ticket includes the Space Needle and the Chihuly Garden and Glass.
How many days do you need in Seattle?
I think that 3-5 days is a good amount of time in Seattle. That way, you can spend a full day out at Mt. Rainer, and another day enjoying a lazy day on the waterfront and at Pike Place Market.
Other days could be spent checking out the main attractions (Space Needle, Chihuly Garden, museums, etc.), and finally, your last full day could be spent on the water taking a cruise, or joining a food tour.
What Food is Seattle Known For?
There are so many foods you should try in Seattle, many of which are seafood due to the city's location on the ocean. Don't miss oysters, salmon, geoduck, and sushi. Plus, you have to try a Seattle Dog (hotdog, Seattle style!), coffee, and pho (Vietnamese soup). Have a look at this post for more.
Now You Know What To Do in Seattle
These are just some of the many interesting things to do in Seattle. There's a lot more going on in the Emerald City, including plenty of other parks, beaches, museums, tours, and a whole lot more.
With some more time in Seattle, you can also take advantage of the many amazing day-trip opportunities.
Within a few hours, you can find yourself exploring Mt. Rainier or Olympic National Park. Or perhaps you'd rather go visit a waterfall or soak in a hot spring. The options for adventure really are endless!
If you've been to Seattle and have a great recommendation for things to do, leave a comment below.
*Images in this post are courtesy of Shutterstock.
Like This Article? Pin it!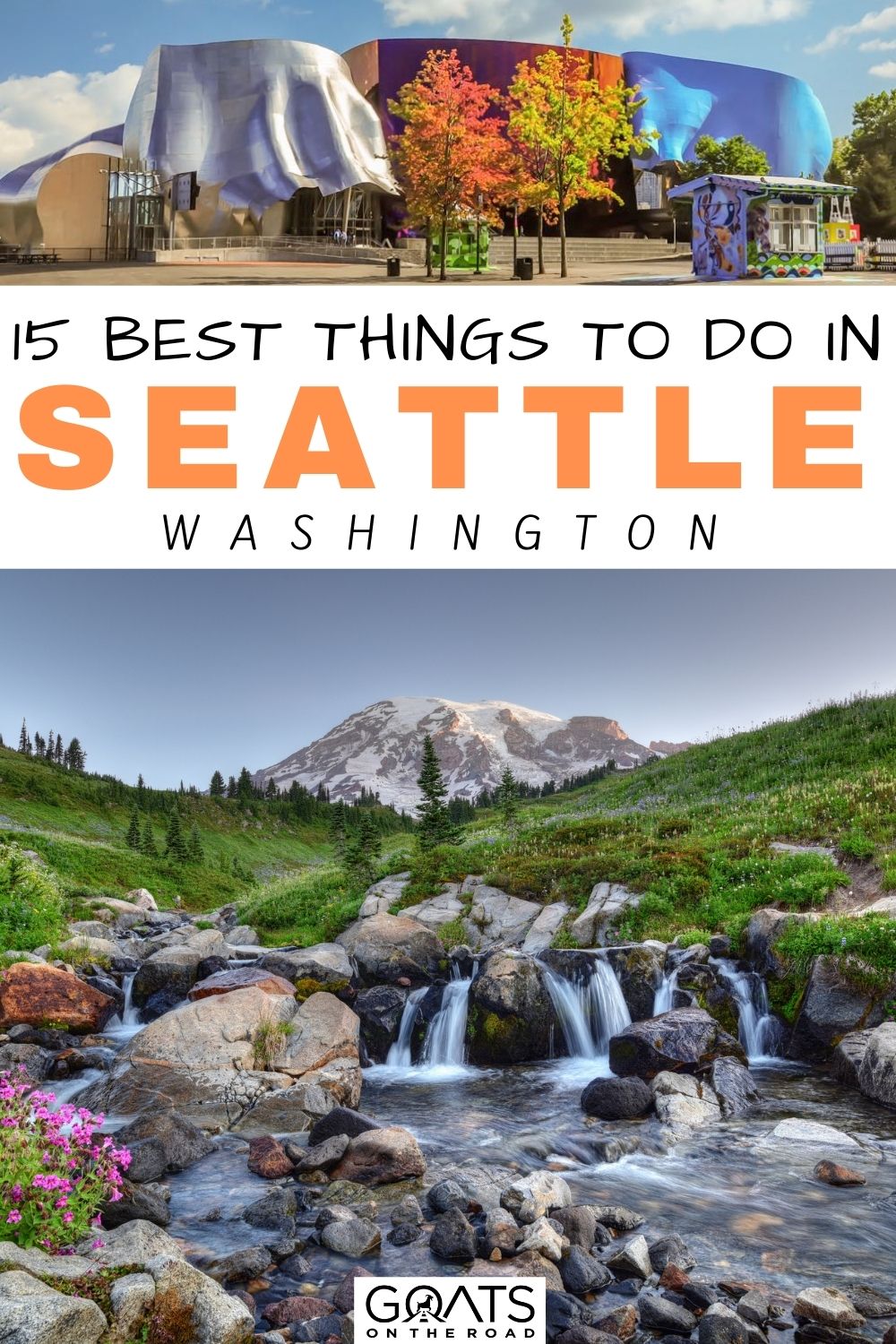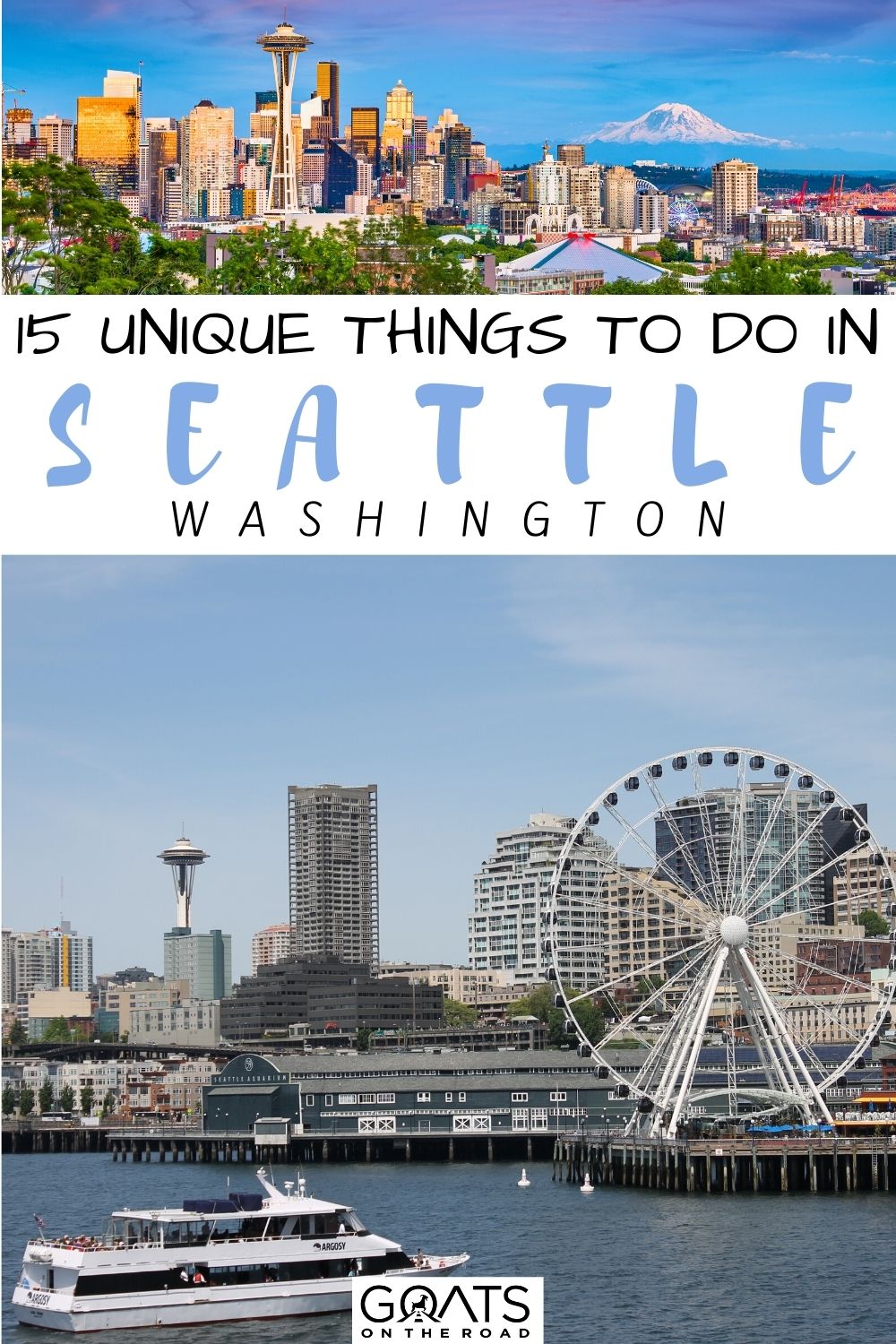 The post 15 Best Things To Do in Seattle, Washington appeared first on Goats On The Road.
[ad_2]

Source link